Increasingly popular, what we call soft mobility has become a transport solution widely used by the French, bicycle, scooter, skateboard, self-balancing scooter, etc. The turnover of this sector has reached 3.4 billion euros in 2021, or 43% more than in 2019.
To make the use of bicycles credible and comfortable for all, the Federation of Bicycle Users (FUB) believes that adequate conditions are necessary to guarantee the safety of cyclists and achieve carbon neutrality in 2050, as highlighted by the major stakeholders. energy and climate. The government is announcing a historic investment of 1.45 billion euros to finance cycling-related projects and meet the expectations of cycling stakeholders and create a real "Marshall Plan".
Even if these means of transport are environmentally friendly and therefore considered sustainable, they do not limit the risks that users may face on the road. It is therefore important to consider the use of PPE to ensure safety.
Soft mobility: the context
What is soft mobility?
Sweet words. The expression "soft mobility", which appeared in the mid-2000s in response to growing environmental concerns, particularly linked to climate change, has given a new dimension to the way we move. While the term "traffic" used since the 1980s focused primarily on roads and motor vehicles, the concept of "mobility" was introduced to encompass all forms of travel.
This term, which has become a major topical topic in recent years, represents modes of daily travel which, on the one hand, are non-motorized and, on the other hand, have a low impact on the environment.
Soft mobility solutions can be:
The bike
Walking
The electric scooter
The skate
Roller
Segway
Others….
It is therefore a question of using more sustainable and less polluting transport methods.
Soft mobility: an environmentally friendly approach
Traditional modes of transport emit a significant amount of air pollutants such as fine particles and nitrogen oxides, which have a detrimental impact on air quality and human health.
Soft mobility, and therefore the use of non-motorized vehicles, is beneficial for the environment and our health. Indeed, limiting the use of motorized vehicles leads to a reduction in environmental impact. This is part of a sustainable approach that favors less polluting and more ecological travel.
5 main advantages of soft mobility on the environment:
Reduction of greenhouse gas emissions
Reduction in air pollution
Reduction in road congestion
Preservation of natural resources
Fight against climate change
In order to offer an urban environment more in line with these methods of travel, many cities around the world are mobilizing to adapt infrastructure, particularly cycle paths.
At the same time, other benefits can be identified. Indeed, soft mobility promotes the practice of sports and therefore a healthy lifestyle but also social cohesion with safer spaces for pedestrians and cyclists.
DIEZZ SPORT is firmly committed to reducing the rates of CO2 emissions generated by the transport of goods. We are aware of the importance of developing a brand with real added values in terms of sustainable development. We therefore strive to adopt responsible and environmentally friendly practices, while offering quality products. Our goal is to be an integral part of the transition to a more sustainable future and to support our customers in their green efforts.
Together, let's make small gestures that will have a positive impact on our planet.
The most common risks for users
Although soft mobility is a method with many advantages for the user and the environment, the risks associated with the practice and exposure to the road are no less dangerous.
Last year, cyclist mortality increased by 30%, with a total of 244 deaths (57 more deaths compared to 2019, the year before the pandemic). We also observed an increase in serious injuries among cyclists, with 2,600 seriously injured (an increase of 13% or 300 more). According to Road Safety, cycling in rural areas/outside urban areas has recorded a worrying increase of 47% in mortality and 22% in the number of serious injuries compared to 2019.
As for users of Motorized Personal Transport Vehicles (EDPM), they have experienced a sharp increase in accidents. In 2022, 34 "scooter riders" lost their lives, compared to 10 in 2019, and the severity of their injuries is also significantly increasing, with around 600 serious injuries estimated in 2022, or 400 more than in 2019.
When cycling, skateboarding, rollerblading, self-balancing, scootering…dangers on the road are present at every moment. Falls linked to accidents caused by a third party (car, motorcycle, truck, other users, etc.), accidents caused by obstacles (uneven surface, debris, gravel, etc.) or even bad weather (rain, wind, ice, etc.) are common.
Beyond small, minor injuries, it is not uncommon for users to present a greater risk, such as a concussion, for example. Concussions are temporary disruptions in neurological functions caused by external forces applied to the head, face or neck. Sports-related concussions (SRC) are increasingly suspected and diagnosed. They represent between 1.3% and 9.1% of all cycling-related injuries. However, their diagnosis remains complex and many unreported potential concussions can skew statistics and make it difficult to accurately estimate the prevalence of these functional brain injuries. Studies carried out on the effects of repeated concussions have mainly highlighted neurocognitive disorders, in particular problems with memory and speed of information processing, as well as the occurrence of chronic traumatic encephalopathies (CTE) and impaired of quality of life. The number of concussions suffered and the time interval between accidents worsens the severity of subsequent concussions and increases the risk of neurological sequelae
It is therefore very important to adopt adequate security measures. This means using personal protective equipment and in particular protecting your head to avoid serious injuries in the event of a possible fall.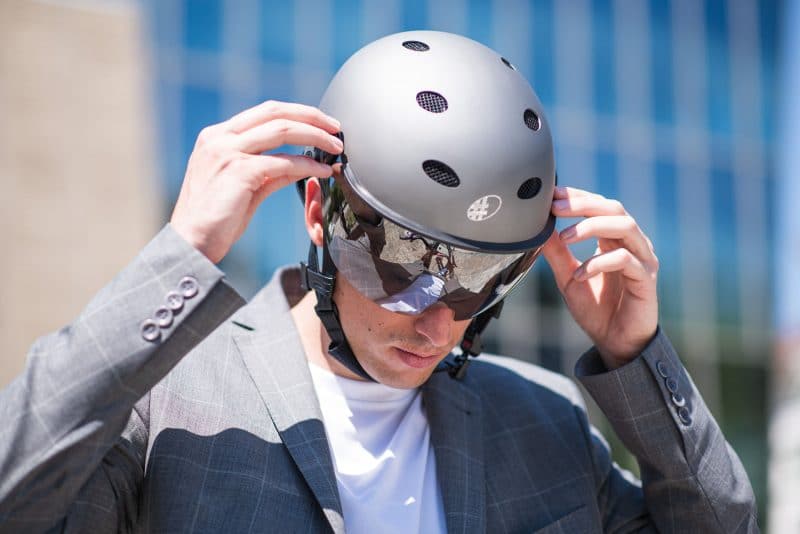 PPE (Personal Protective Equipment): using soft mobility safely
Definition of PPE
With the onset of the COVID-19 pandemic, personal protective equipment (PPE) quickly became familiar to the general public. Whether gloves, masks or visors, PPE is now essential to protect against falls. However, it is important to emphasize that the use of PPE is not new and has evolved over time. This provides the opportunity to trace the history of PPE through different eras.
The origin of the first personal protective equipment dates back to ancient times, where soldiers were equipped with helmets, masks and protective vests to face their adversaries. The history of PPE is closely linked to military history, and the first traces of armor can be found several centuries before our era. Already in the 7th century BC. BC, Greek hoplites wore breastplates over their tunics to protect their torsos. On the side of the Roman Empire, the Marianic reform of 107 BC. BC made it possible to standardize and improve the equipment used in the Roman army. In Asia, as early as the 4th century, Japanese soldiers and horsemen attached iron plates, held in place by leather, to their torsos during battle to prevent injury. Thus, the history of PPE has its roots in ancient periods and testifies to the importance given to individual protection over time.
In the sports sector, personal protective equipment represents the clothing or devices used to protect oneself from the risks associated with the practice of the sport concerned. They help protect parts of the body exposed to the risk of potential injury and ensure the safety of the user.
Depending on the sports practiced, the risks may be different and therefore various personal protective equipment is possible. The most common equipment marketed for the practice of a large number of outdoor sports are protective helmets, protections for the lower limbs and protections for the upper limbs.
Personal protective equipment (PPE) in soft mobility
Given the possible risks of injury when practicing gentle mobility, certain PPE is strongly recommended.
Among them, the protective helmet remains crucial equipment to protect the head and therefore serious injuries in the event of a fall or collision. It is the essential accessory to consider when cycling, scootering, self-balancing or any other gentle mobility activity.
Among the other possible equipment, we can cite knee protections or wrist protections which can also be essential for protection.
It is important to note that PPE must be of good quality and fitted to your size to ensure effective protection.
Diezz Sport protections: ensure your safety on the road
Customizable bicycle helmets
Practicing urban travel therefore does not spare you from the dangers present on the road. However, to ensure safety and prevent injuries in the event of accidents or falls while cycling, skateboarding, self-balancing or scootering, it is important to protect yourself. This is why DIEZZ Sport, specialist in helmets with photochromic visors, has designed bicycle helmets with or without visors specially adapted to these activities.
Photochromic 0-2 visor helmets offer complete protection by automatically adapting to ambient light. They are equipped with a visor that protects the eyes from sunlight, dust, insects and other elements that can cause damage. By choosing to wear a suitable helmet, users can reduce the risk of head injuries in the event of an accident or fall.
Category 0: 80% – 100% transmission rate / night vision or bad weather
Category 1: 43% – 79% transmission rate / low light
Category 2: 18% – 42% transmission rate / average light
Ideally designed to protect the head thanks to technology combining safety, comfort and design, they have the advantage of being customizable. Diezz therefore offers to ensure your safety while prioritizing aesthetics and the expression of your style thanks to its bicycle helmets designed in France and adapted to all your gentle mobility adventures.
Choose safety while focusing on a unique style!
Bicycle helmets for gentle mobility
Photochromic and polarized visors
Your Diezz bicycle helmet can be personalized at the visor level. We offer you a range of unique visors for stylish bicycle helmets.
The advantages of our visors:
They are photochromic: they adapt to weather conditions for optimal vision
The colors are ultra-trendy: gold, pink, silver…
They guarantee maximum comfort: seal, nasal protection, comfortable interior, etc.
Protective visors for gentle mobility
DIEZZ SPORT is committed to reducing greenhouse gas emissions and attaches paramount importance to the safety of everyone when traveling in soft mobility. With this in mind, we strongly recommend that you replace your helmet in the event of a fall, and renew your equipment every 5 years to guarantee optimal safety. Our goal is to combine both safety and style, so you can move with confidence and look great.
With DIEZZ SPORT: Move With Style